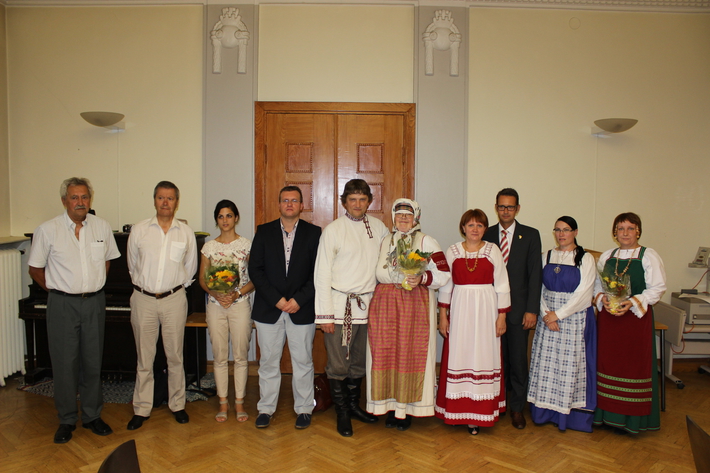 Finno-Ugric Capital of Culture 2015 was selected on August 11 at the Uusi Ylioppilastalo (New Student House) in Helsinki by a four-member international jury consisting of Ms. Nina Beliaeva (Mayor of Bygy, Udmurtia), Mr. Mart Meri (Member of Parliament, Estonia), Mr. Péter Aranyi (journalist and PR consultant, Hungary) and Mr. Sampsa Holopainen (President of MAFUN, Finland).

The final event of the competition featured presentations by three finalists: the village of Obinitsa known as a key cultural centre of Setomaa (Estonia), historical "City of Queens" Veszprém (Hungary) and Vuokkiniemi (Voknaovolok), a Karelian village closely linked to the Kalevala epic.
Jury's choice of the winner – Obinitsa – reflected an appreciation of Obinitsa's cultural and civic resources, systematic collaboration with Finno-Ugric peoples during the past two decades and a comprehensive programme of the capital of culture year that featured several projects with a broader Finno-Ugric dimension. Lead theme for Obinitsa's programme will be "strengthening ancestral cultural heritage in the modern environment". Flagship event of the capital of culture year will be "Week of Finno-Ugric Culture – from Master to Master" to be held during the first week of August and culminating on the traditional Day of Seto Kingdom. Key priority of Obinitsa's programme is engagement of Seto people living on both sides of the Estonia-Russia border. According to Mr. Rein Järvelill, Mayor of Meremäe Rural Municipality (where Obinitsa is located): "All of Setomaa will participate in the programme of Obinitsa – Finno-Ugric Capital of Culture 2015. This is a win for the entire Seto people."
Altogether six applicants took part in the contest – in addition to the three finalists also the villages of Bolshaya Kocha (Perm Region), Haikola (Karelia) and Viistina (Leningrad Oblast). According to Oliver Loode (Head of the Programme Bureau of Finno-Ugric Capitals of Culture), this year's contest was saw a marked improvement in the overall quality of applications: "All applicants, from the tiny Karelian village of Haikola that still lacks electricity, to the historic city of Veszprém, approached their task with seriousness and sense of responsibility that met or even exceeded organizers' expectations."
The programme of Finno-Ugric Capitals of Culture is a civic initiative of the Youth Association of Finno-Ugric Peoples (MAFUN). Key objectives of the programme include strengthening common Finno-Ugric identity, raising awareness of Finno-Ugric peoples and languages, and stimulating local cultural, economic and social development. The Finno-Ugric Capitals of Culture programme was established in 2013 for a four-year cycle (2014-2017), ensuring geographic rotation of title-holders to represent the cultural diversity of the Finno-Ugric world that ranges from Central Europe to Siberia.
More information: Oliver Loode (oliver.loode@uralic.org, Tel. +372 513 2992).